A provider of highly efficient and durable bearings and related accessories
About Us

Thinking of a heavy machine or vehicle as just a composite unit of powerful components like engines, motors and structural parts can be sometimes misleading, because even though, the aforementioned wares are the core materials, they are held together for a synergistic productivity effects by much smaller components like screw and ball bearings. Established in 2011, NBR Engineering Private Limited, an ISO 9001:2008 certified company, is a name that is synonymous with excellence and craftsmanship in the domain of industrial wares like ball bearings and related components.


Catering to a diverse client base such as OEMs, Actuators, Defense and the automobile sector, we are a noted Manufacturer, Exporter and Supplier of products such as Precision Ground Ball Screws, Lead Screws, Guide Shafts, and Ball Screws, in addition to a host of other related commodities. We are backed in our efforts by a team of qualified technicians, engineers and designers who utilize their expertise in fabricating some of the most innovative industrial wares available in the market.

Quality Assurance

In order to provide our clients with the best possible and hassle free usability experience of our products, we employ a number of quality inspection measures that are unique to our brand. For instance, we employ a discreet color coding system that makes the segregation and installation process of the respective components much easier. Furthermore, we ensure a periodic calibration and gauging of the fabrication tools to keep their finesse and accuracy intact, that enables them to churn high grade products with the same consistency.

Facilities

We boast a state of the art fabrication facility that is equipped with some of the most advanced and efficient machines such as Power Hacksaw, Metal cut Off Machines, CNC Thread whirling Machines and Stanko Thread Grinding Machines, with an additional VMV-CNC Machine Centre. Moreover, for added accuracy and polishing for better results, another batch of equipments are installed such as CD Straightening Press, Column Drilling Machines, Bench Grinders, Digital Micrometers and Vernier Callipers, Trapezoidal Grinding Machines and dial Gauges are brought to use.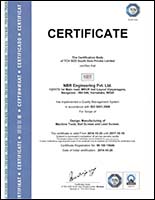 Most Popular Products

Latest Trade Offers
We are actively immersed as manufacturer, supplier and exporter of a dependable range of Ball Screw With Special Nut in Bengaluru, Karnataka, India. B..
We are employed as leading manufacturer, supplier and exporter of Ground Ball Screw in Bengaluru, Karnataka, India. We offers a wide range of ground b..
Contact Details
NBR ENGINEERING PRIVATE LIMITED


Bangalore, Karnataka, India
No. 1231/72, 1st Main Road, Vijaynagar, Mrcr Industrial Layout, Bengaluru - 560040, Karnataka, India
Phone : 08045801210
Fax : 91-80-23509177
Mr. Akheel (Head-Sales and Application )
Mobile : 08045801210